CY Control Cables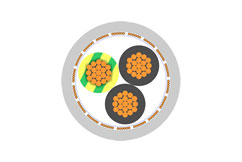 Copper Conductors, PVC Insulation, Copper Wire Braid, PVC and LSOH Sheaths.
CY cables are screened flexible control cables typically used in applications reliant on interference free transmission.
In industries where interference can impact signalling transmission, a reliable cable is needed for accurate transmission even in areas that where electromagnetic fields are generated.
CY cable features a multicore flex, tinned copper wire braid and polyethylene terephthalate (PET) separator which protects it from external electromagnetic influences. CY cable is suitable for flexible use when moved temporarily without tensile stress.
It can be used outdoors when protected from UV rays and in dry or moist conditions indoors, including oil-water mixtures.Available in a wide range of core configurations and cross-sectional area (CSA) sizes, with colour-coded individual cores in accordance with the European Harmonised designation.
---